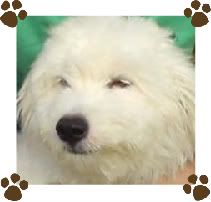 Visiting my friends home is now a lot more meaningful than ever. I love almost all kinds of animals but dogs and cats are my favorite. I got a chance to meet a 6 months old, half Maltese half Japanese Spitz dog. His name is Benjie.


Benjie's mom is pure breed Japanese Spitz named Timo while his dad is a cross-breed of Japanese Spitz and Maltese too named Swooshie. Benjie has a pure white fluffy fur which makes him so huggable. Benjie loves to eat rice and corned beef and his favorite pass time is slightly strange which is taking a shower. His owner makes sure he is always clean and well groomed. That's why I really love to hug him.

We took Benjie for a walk around the neighborhood that afternoon. Benjie is very obedient and kind to people. Like all Maltese, he is a very passionate and loving and is easy to train. Another unique thing about Benjie is that his left eye color is different from his right eye which is gray in color.
Well talk more about Benjie next time :) Oh I miss him already...